ESPN Radio/QCSportsNet Friday Night Football Schedule – October 17, 2014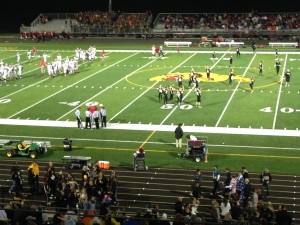 Playoff implications abound this Friday night, and ESPN Radio's Friday Night Football - Powered by QCSportsNet will be there for all of the action. Six games are on the schedule, highlighted by Pleasant Valley hosting Dubuque Hempstead in a critical Iowa 4A district showdown, Rock Island Alleman looking to clinch a playoff berth at Peoria Richwoods, and Bettendorf looking to clinch a district title at Dubuque Senior.
Your full Friday schedule is below. Click on your favorite team to go to the live Network 1 Sports streaming site, or click on the links to get to your game sites.
Here are tonight's playoff implications
Alleman becomes playoff-eligible with a win
Bettendorf clinches a district title and guarantees two home playoff games with a win
Pleasant Valley clinches a home playoff game with a win
North Scott clinches a home playoff game with a win
An Assumption win leaves the Knights in no worse than a tie for 2nd place in Iowa 3A District 5